Whoops!!!!
The thrid leg of the Race, proved a little too difficult for the dynamic duo Peggy and Claire. After having to book tickets from Sao Paulo to Africa, the girls had no other choice but to make connections in New York, London, and Johannesburg. This pushed them back in the race by an entire day. We are still proud and hope you had a blast.
Pretty Woman

Pretty Woman, Walking Down the Rocks
Wallpaper
Find your Peggy and Claire Wallpaper on the custom site.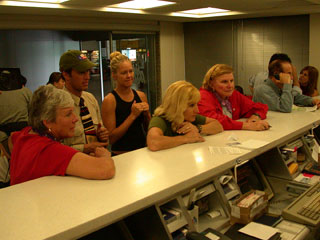 Those Texas Siblings!!!
"Just get in Line" said Peggy to the texas team Paige and Blake, when waiting for help at a ticket counter in Sao Paulo
Email the Webmaster